At Total Power we pride ourselves on supplying our customers with Solar Panels (PV) and Electrical installations, using the best quality accredited equipment installed to the highest possible standards. Giving industry leading, customer care, sales and maintenance.
---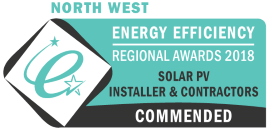 We are happy to travel to most areas including the North East/West, Scotland. Cumbria, Yorkshire, Tyneside, Northumberland, Lancashire, Tyne and Wear, County Durham, Borders.
Our company vision is to supply our customers with energy saving solutions, to not only assist with their immediate cost effective savings but also reduce carbon footprints and secure a better future for us and our children.
---
What the government says about Solar Power
The UK has a binding target under the European commission's Renewable Energy Directive to source 15% of our overall energy from renewable sources by 2020. To achieve this we need to use all our available renewable resources in the most cost-effective way. Solar-energy will play a key role as it has the potential to provide about 30% of our 2020 target.
---
Why Choose Us
Total Power is committed to offering cost effective energy saving solutions to both homeowners and businesses alike. The core of our company is Solar panel installations, we are passionate about our service and pride ourselves on our workmanship. We offer a complete turnkey package from design, supply, installation straight through to commissioning and after sales support. Established in 2013 we have successfully installed and commissioned over 300 photovoltaic systems for both domestic and commercial clients.
An installation from us comes with total peace of mind a 100% satisfaction guarantee. Although solar panels are our core business we are committed to researching the market and offer various other energy saving devices be it; Battery Storage, Voltage Optimisation, LED lighting or Electric vehicle car charging ports, we can offer a solution for any energy saving requirement that may arise. We are committed to helping our clients reduce their Carbon footprint and inevitably make them more profitable and sustainable by reducing their on-going running costs.
Guarantee to provide top quality equipment at the lowest prices
Do not employ hard sell techniques - we give you one price, no phony special offers
Offer a full 5 year guarantee and for your piece of mind it is insurance backed
Are a local family firm with no expensive sales team - so we keep our prices affordable
Please give us a call to arrange a hassle free, no obligation consultation and we will explain how our solar panels will help you save money, earn money be greener/reduce your CO2 emissions/help the environment.